12 novembre 2022
Mauro Forghieri (ci dessus à droite sur la photo à coté du commendatore Enzo Ferrari), nous a quitté début novembre de cette année à l'âge de 87 ans. Il restera l'ingénieur emblématique de Ferrari qu'il rejoignait en 1962 à l'âge de 27 ans. Ses premiers projets furent : d'une part de régler les divers problèmes de la 250 GTO, et d'autre part la création de sa première monoplace la 156 de F1.
En 1987 il quitte Ferrari et rejoint Lamborghini, où il crée le V12 de F1 ainsi qu'un chassis maison de formule 1. En 1992 il entre chez Bugatti où il developpera les EB 110 et 112.
Puis finalement en 1995, il crée Oral Engineering, et collabore avec divers constructeurs automobile.
Nous retiendrons 4 véhicules qui illustrent bien le talent de "l'ingeniére": Ferrari 250 GTO, 156 F1, 330 P4 et 312 T F1, et bien sûr il collabara avec les plus grands pilotes de Phill Hill à Niki Lauda.
Pour agrandir une photo: cliquez dessus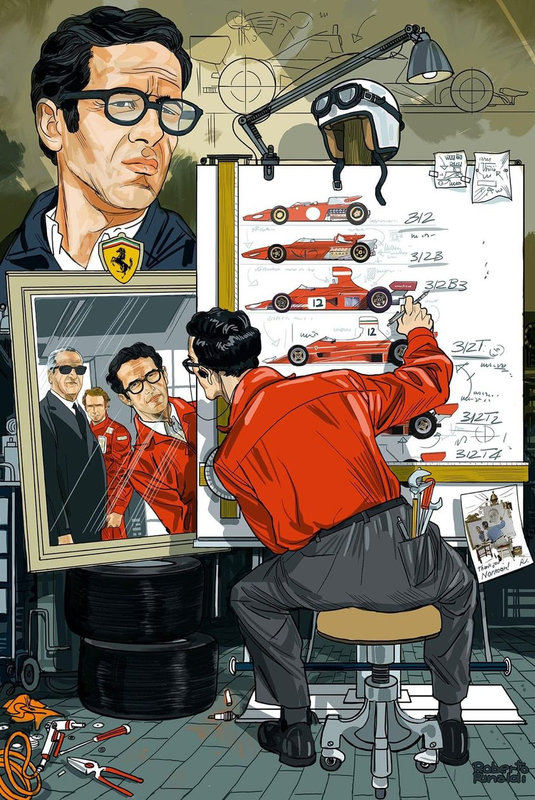 © Roberto Runaldi (Mauro au travail, Mauro at work)
Mauro Forghieri (above right in the header photo next to commendatore Enzo Ferrari), left us at the beginning of November this year at the age of 87. He will remain the emblematic engineer of Ferrari, which he joined in 1962 at the age of 27. His first projects were: on the one hand to solve the various problems of the 250 GTO, and on the other hand the creation of his first car, the 156 of F1. In 1987 he left Ferrari and joined Lamborghini, where he created the F1 V12 as well as an in-house Formula 1 chassis. In 1992 he joined Bugatti where he developed the EB 110 and 112.
Then finally in 1995, he created Oral Engineering, and collaborated with various car manufacturers. We will retain 4 vehicles which illustrate the talent of the "ingeniére": Ferrari 250 GTO, 156 F1, 330 P4 and 312 T F1, and of course he collaborated with the greatest drivers from Phill Hill to Niki Lauda.
To enlarge a photo: click on it.
©HMS2022 - Henri Lugan